September 23, 2018
Premiere of Oregon Trail, Mvmt 1, Me-a-pa-te, performed by Citywater
Sunday, September 23, 4:00pm at the Empress Theatre in Vallejo, California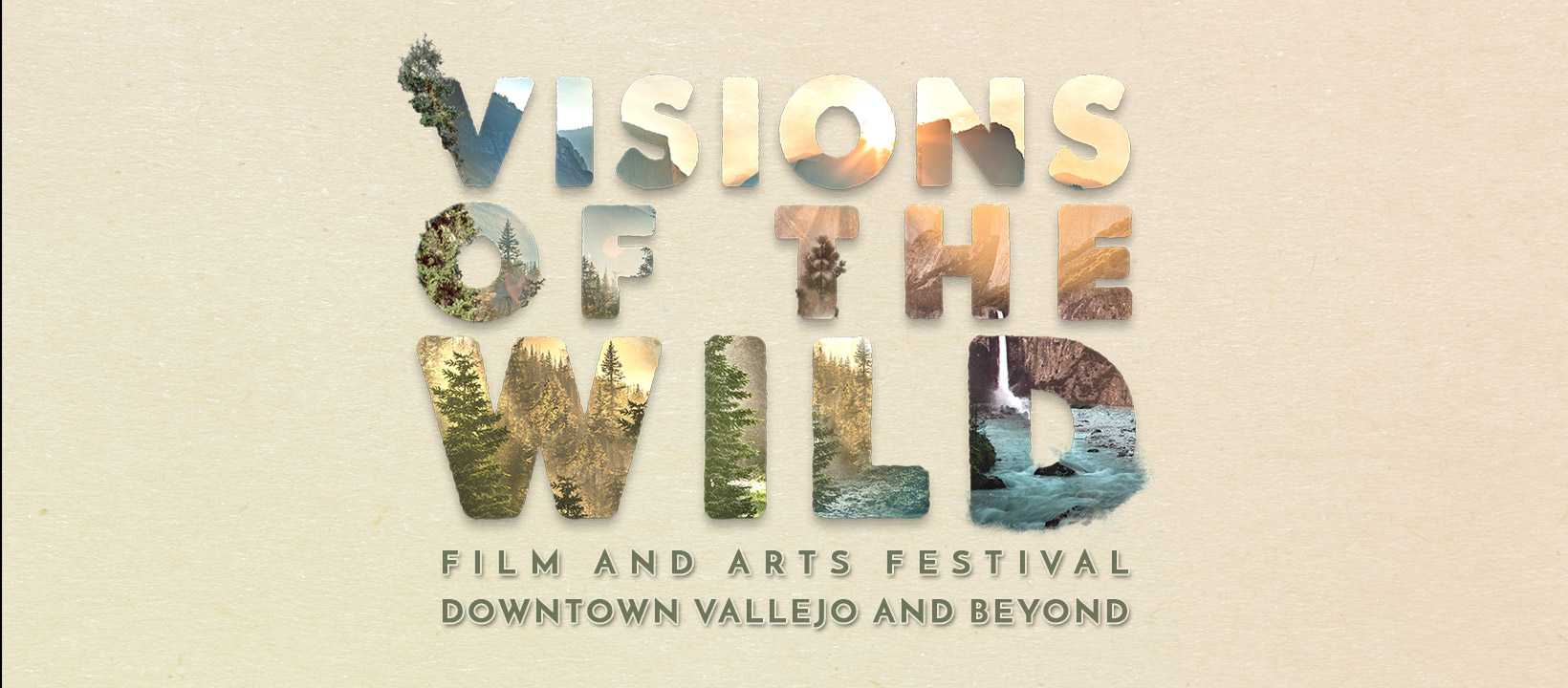 September 25, 2018
Community Discussion for the 50th Anniversary of the National Trails Act and 175th Anniversary of the Oregon Trail.
Tuesday, September 25, 5:300pm at the End of the Oregon Trail Interpretive Center, Oregon City Oregon.
https://www.historicoregoncity.org/calendar/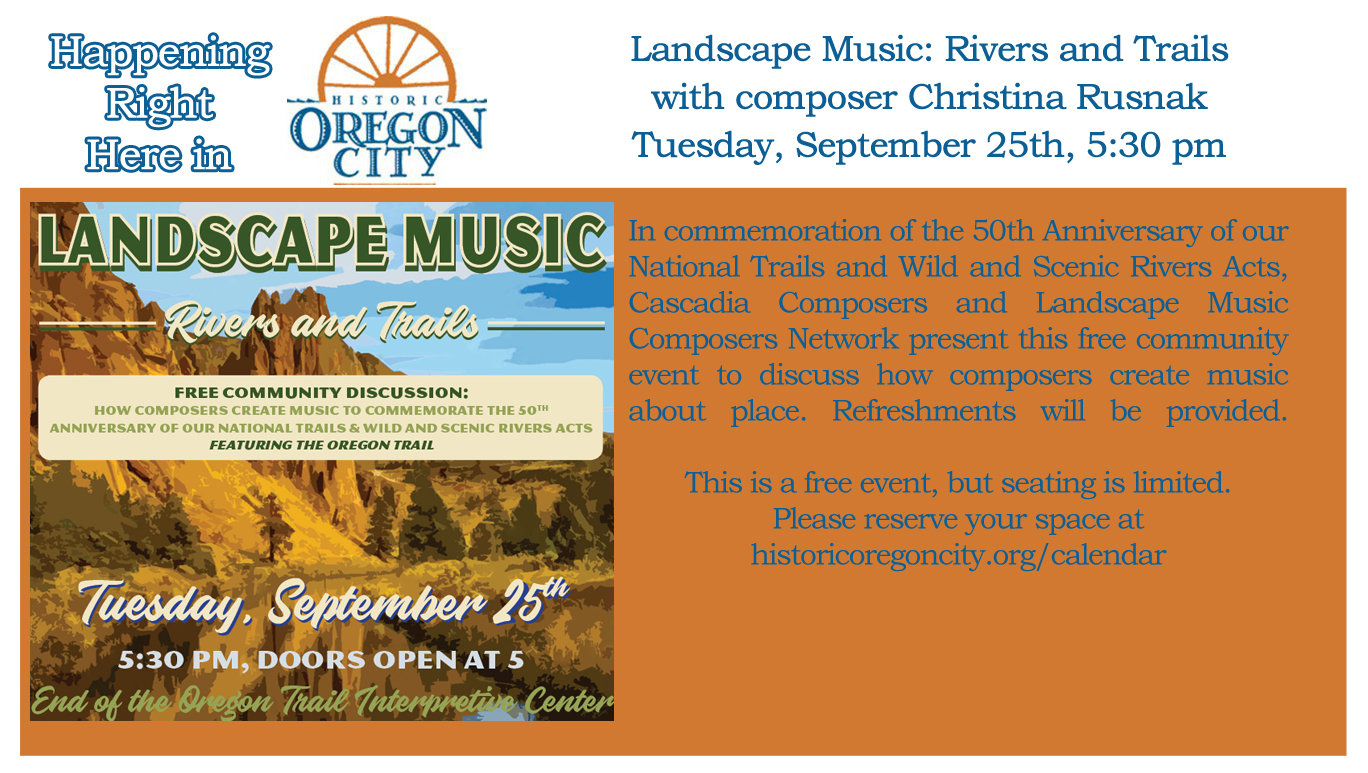 September 29, 2018
Premiere of Oregon Trail, Mvmt 3 Hyas Tyee Temwata, performed by the Atlanta Contemporary Ensemble
Saturday, September 29, 7:00pm at the First Existentialist Congregation of Atlanta, Georgia.
https://www.facebook.com/events/875901382593464/
October 4, 2018
Oregon Trail mvmt 1, Me-a-pa-te, Michigan Technological University
October 4, 7:30pm at McArdle Theatre, Houghton, MI
https://events.mtu.edu/event/landscape_music_rivers_trails#.W1co3i2ZNBx
October 7, 2018
Oregon Trail mvmt 3, Hyas Tyee Temwata, sponsored by Cascadia Composers
October 7, 2:00 pm at The Old Church, Portland, Oregon
http://www.cascadiacomposers.org/concerts/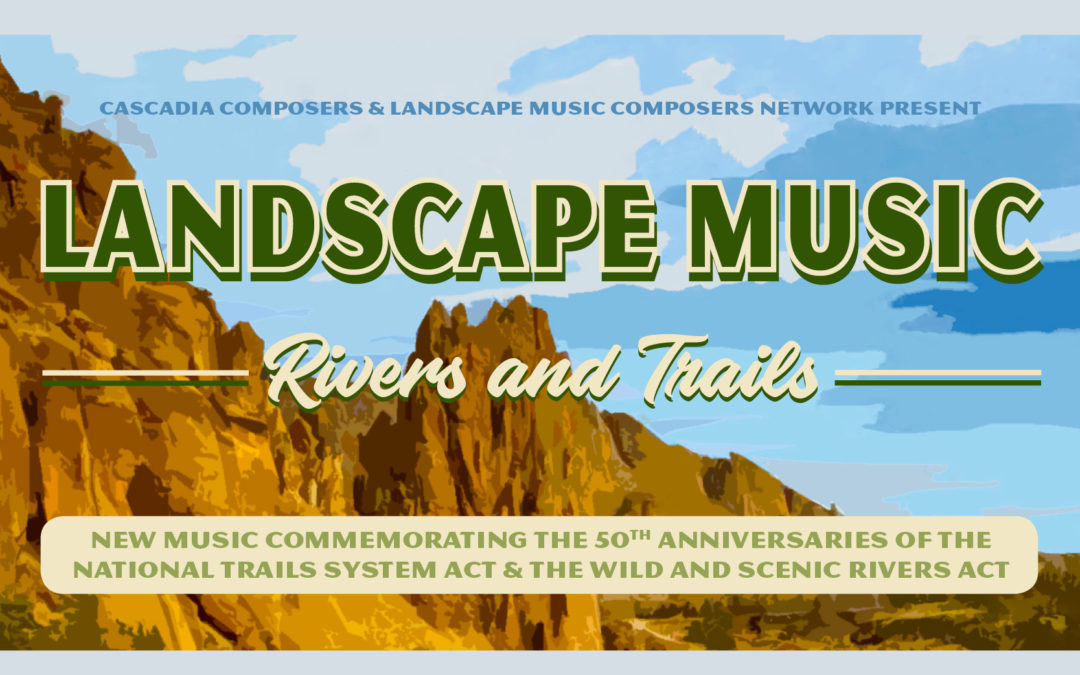 October 27, 2018
Speaking on a panel about Composers and Careers at the Royal Irish Academy of Music, Dublin, Ireland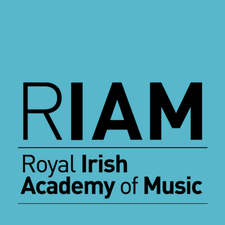 October 27, 2018
Attending the IAWM annual concert at Trinity College Chapel in Dublin Ireland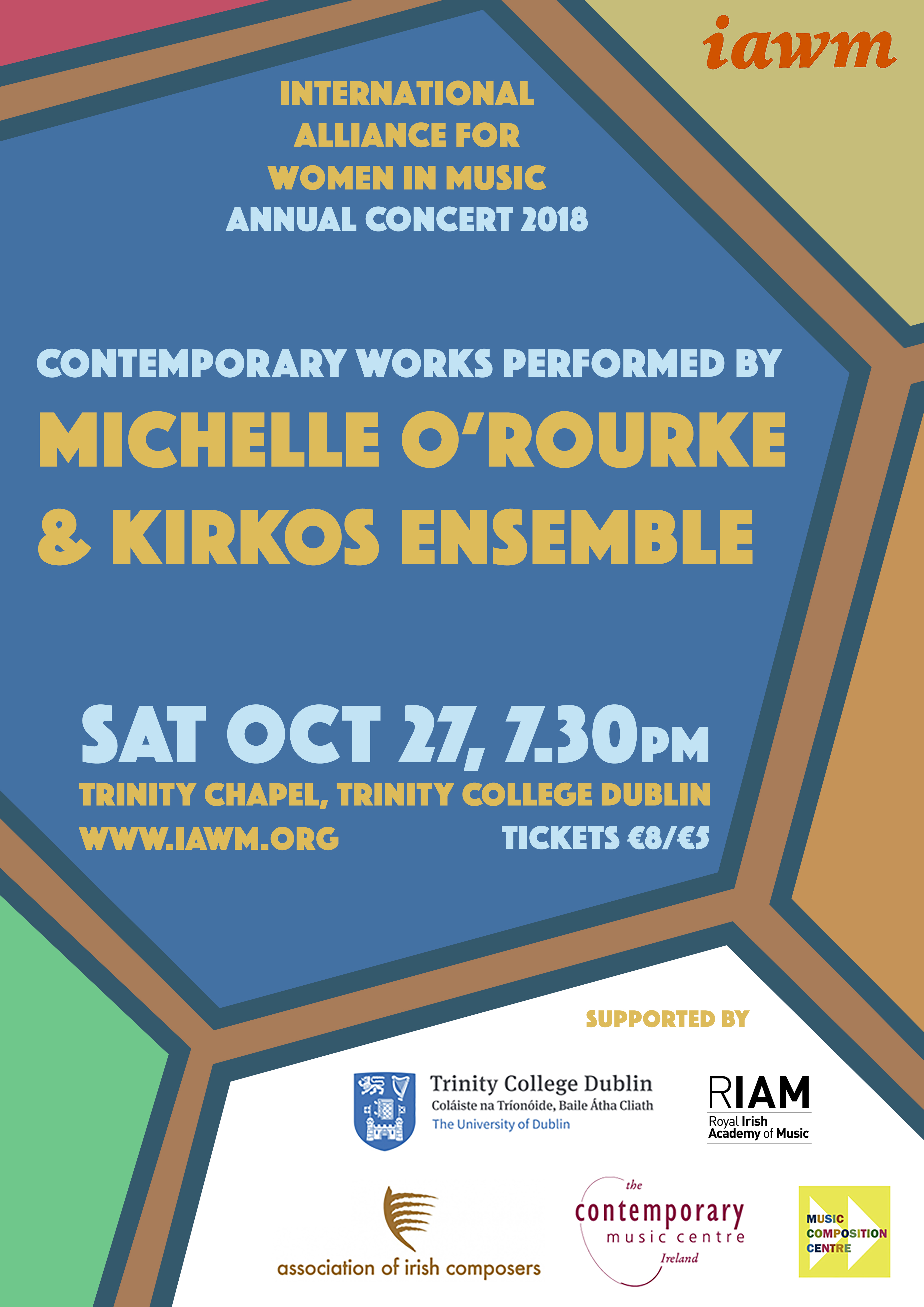 November 2, 2018 
Festival of New American Music;
Oregon Trail, Mvmt 1 Me-a-pa-te performed by Citywater
https://www.csus.edu/music/fenam/
November 9 and 11, 2018 
Premiere of The Mountain Within, Beaverton Symphony Orchestra
VBC Grand Auditorium at Village Baptist Church
330 SW Murray Blvd, Beaverton OR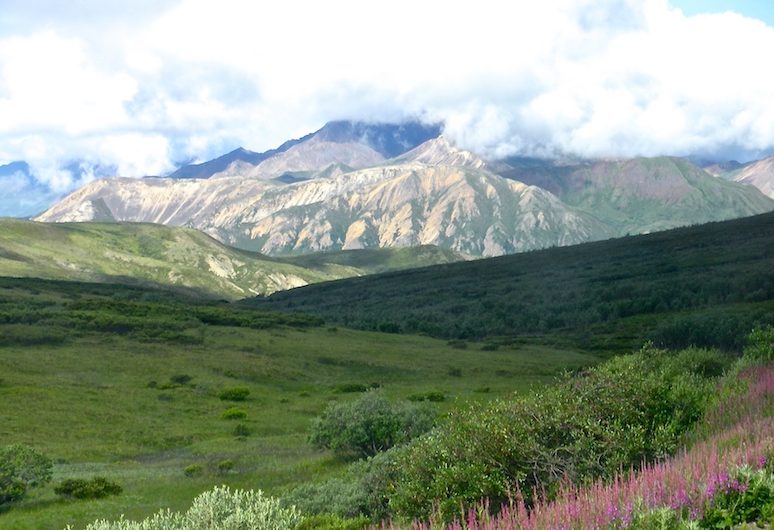 November 20, 2018 
Pioneers: First Women Filmmakers (Blue-ray) by Kino Lorber Films
https://www.kinolorber.com/product/pioneers-first-women-filmmakers-blu-ray?affiliate=fb 
In conjunction with the Library of Congress, I composed A House Divided for the 1913 silent film of the same name.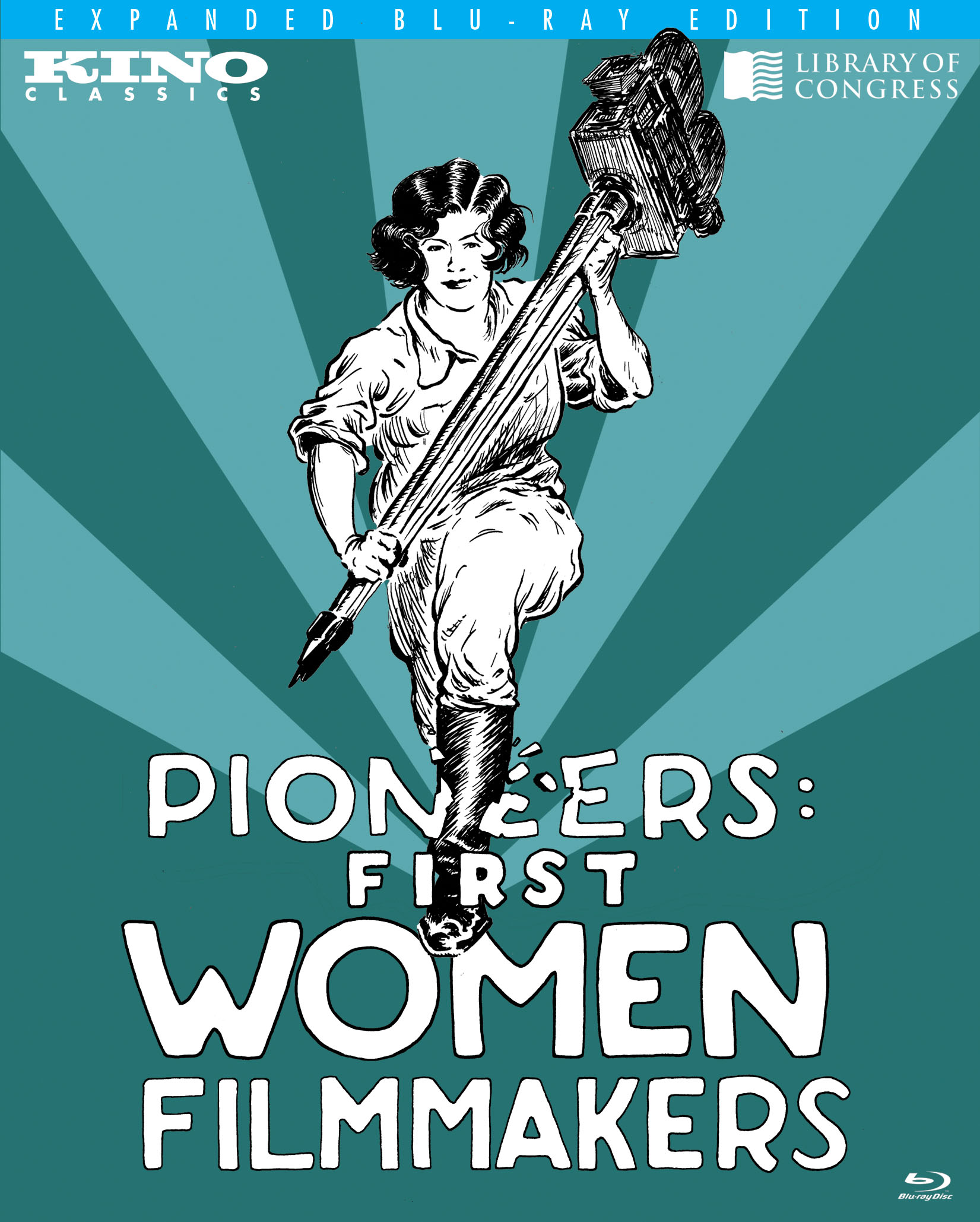 Late Fall, Early Winter 2018 
I'm working on a couple of band pieces in preparation of attending CBDNA in Tempe AZ in February….