North Cascades National Park
With Google Maps and real-time images available in a single click, the awe of surprise is waning – globally. This phenomenon is not all bad – knowing that my cabin's stove will not require foraging for my own fuel source, or that my bedspread has been changed since the 1970s eliminates worry so I can concentrate on the important things – the hikes, geology, flora and fauna and the culture. Innumerable high-tech multi-media visual images often make us forget that our other four senses have yet to experience what our eyes convince us we know.[1] I try not to over-research – I want to experience wonder. Heading to the North Cascades in Washington, I'm hoping for a rush of awe!
My artist's residency is located in Stehekin, embracing the end of Lake Chelan. One of the most remote communities in the Lower 48, the town is accessible only by boat, plane or by hiking over the glaciated sharp gneiss ridges from the Skagit Valley on the other side. An arduous task, even by today's standards, explorer Henry Pierce and his party flabbergasted the local tribes in 1882 by riding over Cascade Pass into what is today Marblemount. A tribal elder refused to believe they had done so; "it was impossible for anyone but an Indian to keep the trail."[2] There is no cell service, no grocery store, bar or hospital, and a richer cultural vibrancy than I ever imagined.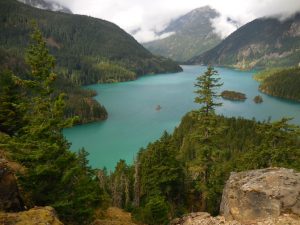 I've come to make music, and I begin the immersion process by taking the usual route into the park: on highway 20 east along the Skagit River. My first hike is Thunder Knob – a jutting cliff along the Thunder Arm of Diablo Lake. The dams and subsequent lakes dominate the landscape; their hum and thunder punctuated by the squeaking trees swaying in the arrival of fall's first rains. Strings? Electronics? I'm meeting another artist, poet Paul Willis this evening. Choir, maybe?
Our morning hopes to hike Cascade Pass and view the Sahale Glacier (recommended by the park folks in Stehekin) are dashed by torrential rains. We hike a couple of shorter more protected trails. Pyramid Lake Trail, just west of Diablo Dam begins like many others, but less than a mile in we enter another world of furry green carpeted rocks and 500 year-old spruce trees. I truly would not have been surprised if Frodo emerged from around the bend.
Later in the week, the Maple Loop Trail, straddling the park's drier eastern boundary rewards us, as we climb 2400 feet to the pass, with a view of the spectacular Memaloose Ridge with its multiple glaciers. In a couple more days, I'll arrive in Stehekin.
[1]             The scientific name for this is Terae Incognitae – the place of the imagination in geography. Concept is credited to John Kirkland Wright. Copeland, Christina. Mapping Women's Sense of Place in Stehekin WA, Masters Thesis, Western Washington University: 2001.
[2]             Mierendorf, Bog "Who Walks on the Ground" from Impressions of the North Cascades, John C. Mills ed. Seattle: The Mountaineers, 1996.